As consumers' shopping habits evolve, marketers must be able to access and analyze data across a fragmented ecosystem in order to identify their target audiences and guide them through their path to purchase.

Consumer Link allows marketers to plan, activate and measure intelligently.
The largest and most diversified consumer data footprint

Reaches 90% of US households

Allows marketers a 360 degree view of shoppers both online and in-store
Learn how Consumer Link combines fragmented CPG data into clear shopper audience profiles for smarter planning, activation, and measurement.
Unmatched TV, Shopper, AND MERCHANT Insights
Consumer Link is a shopper intelligence data spine built from: purchase, media consumption, identity, device, and first-party data, combined with over 170 data feeds that are part of MiQs platform ranging from location to contextual, geographic, behavioral and more.

Through unmatched TV, Shopper and Merchant intelligence, marketers can use Consumer Link to reach, influence and drive purchases among in-store and online shoppers.
TV INTELLIGENCE
Increase your reach to shoppers through the power of TV insights
Optimize TV reach against high, medium and low revenue shoppers

Determine how many purchasers your TV impressions are reaching or missing

Ensure TV impressions are hitting your high volume purchasers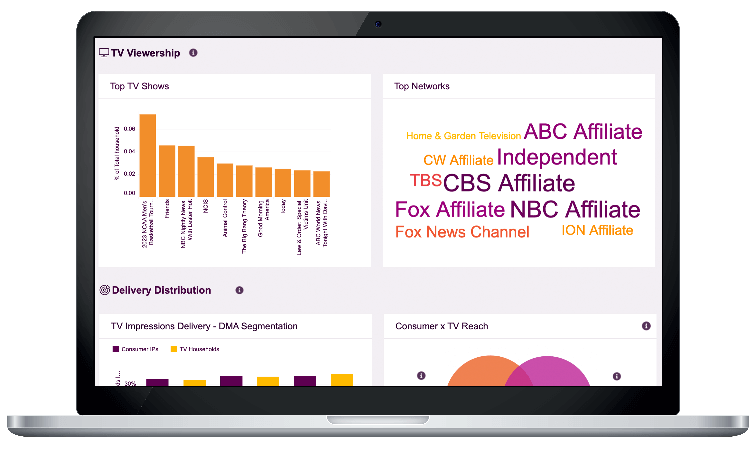 Insights you can discover in the TV intelligence tab:




SHOPPER INTELLIGENCE
Understand your customers to increase purchase consideration based on recency, frequency and monetary behaviors
Increase spend of returning customers with product recommendations based on past purchases or associations

Retarget first-time buyers for further brand promotion

Conquest your competitor's slipping audience as an opportunity to gain market share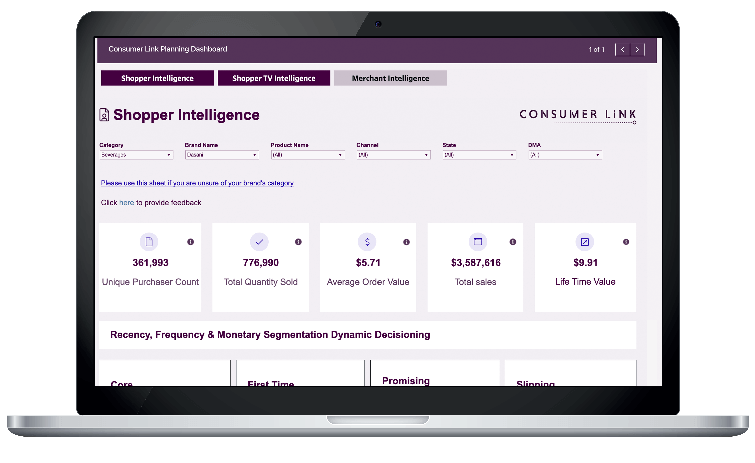 Insights you can discover in the Shopper intelligence tab:



COMPETITIVE BRAND INSIGHTS

MERCHANT INTELLIGENCE
Tap into rich insights that help you better understand in-store and ecommerce behaviors, so you can optimize both
Uncover retailer-level insights to inform your e-commerce and in-store activations

See how retailer loyalty can impact product purchases

Understand store-level performance so you know where to drive your customers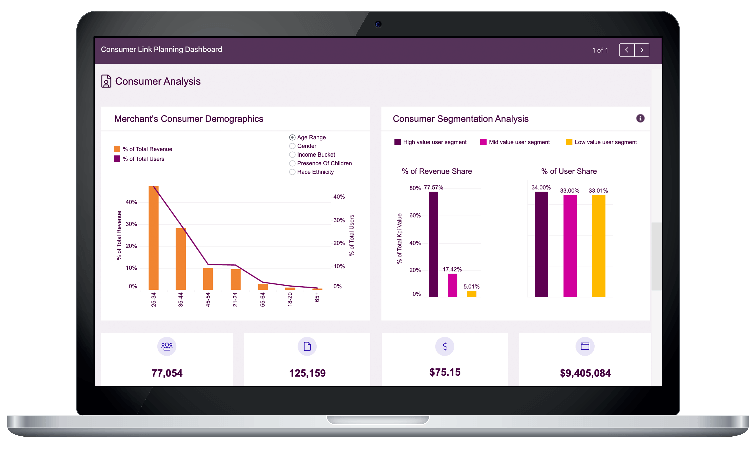 Insights you can discover in the Shopper intelligence tab:

SHOPPER ECOMM VS.
IN-STORE SALES


LOYALISTS VS NON-LOYALISTS
With Consumer Link, marketers can effectively plan, activate, and measure national, regional, and local campaigns at the category, brand and store level.
Plan
Build comprehensive audience profiles based on the segmentations that matter most to your campaign goals.

Activate
Engage consumers with dynamic, personalized creative across TV, display, mobile, retail media networks, and more.

measure
Analyze performance and results in one unified platform regardless of the channel, for in-store or online sales.
WE ARE MiQ
We produce business-changing programmatic media results for agencies and marketers, underpinned by the sharpest data insights and delivered by the smartest people. Our agnostic approach means marketers have access to multiple channels and DSPs, delivered within optimized supply paths, from one uniform platform.